The Empire State Building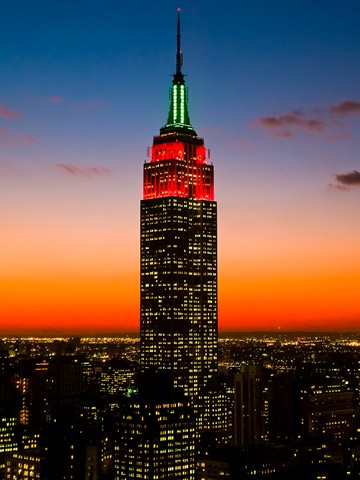 About The Empire State Building
You'd probably know about this 102-story building. 'Course, because King Kong climbed it. Its distinctive Art Deco design is surely an iconic thing. The building has also been named as one of the Seven Wonders of the Modern World by the American Society of Civil Engineers. FYI, it derived it's name from one of New York City's nicknames, Empire State.
It had been the world's tallest building for 40 years until the former World Trade Center's North Tower was built. It is also one of America's favourite architecture. Go up 'til the 102nd floor, where there will be a staircase ascending to the 103th floor, an acess to the spire of the famous skyscraper. You'd also want to watch it light up while the sun goes down and skies go dark. Not just that, you would surely like to try viewing the Midtown skyline at night in the building observatory deck. It's a wonderful sight!
But like any other beautiful places that seem to stand as a symbol and figure of a country, the Empire State Building has strange magic running round in its insides and outsides; sometimes it has been the reason for the different setbacks that tapered the building. Watch out!
Ad blocker interference detected!
Wikia is a free-to-use site that makes money from advertising. We have a modified experience for viewers using ad blockers

Wikia is not accessible if you've made further modifications. Remove the custom ad blocker rule(s) and the page will load as expected.