Name: Anabell Luthen
Species: Werewolf
Age: 19
Appearance: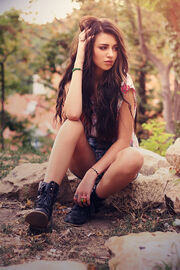 Personality: Anabell is a quiet woman of few words. She loves being around people, mainly kids, but she won't lead the pack, so to speak.
City: London
History: Anabell was born in the eastern side of Wales. Her mother died during childbirth. Both of her parents were Mundane and knew nothing of the world around them
Weapons:
Ad blocker interference detected!
Wikia is a free-to-use site that makes money from advertising. We have a modified experience for viewers using ad blockers

Wikia is not accessible if you've made further modifications. Remove the custom ad blocker rule(s) and the page will load as expected.